For those of you who don't know, Movember is a month-long event in which men grow mustaches for men's cancer awareness. My crafty friend Jen Goode has just come out with a mustache design wheel stamp for Clearsnap, and a bunch of designers are showing their spin on the stamp. My trusty dog Gershwin has kindly agreed to help with this project – a mustache bandana that slips onto his collar. That's one natty dog.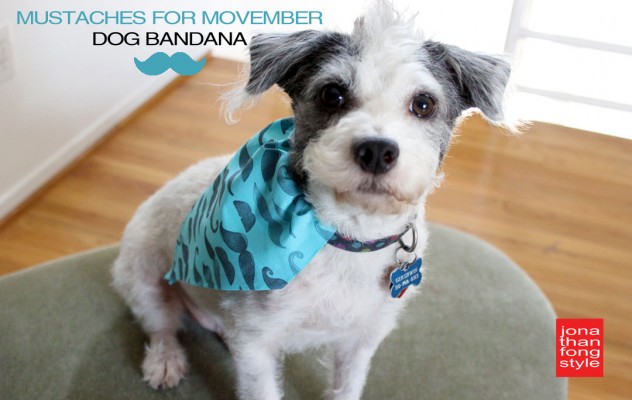 To make the bandana, I used the Mustache Design Wheel Stamp by Jen Goode for Clearsnap, an ink pad, a fat quarter of cotton fabric, and Thermoweb Heat n Bond. I had never used a roller-type stamp before, so I was very excited to use this.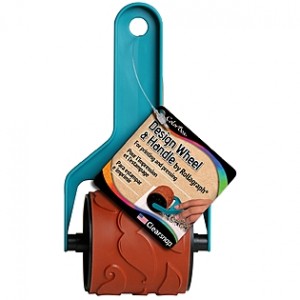 Step 1: After ironing the fabric, roll the stamp on an ink pad so that every part of the design is inked. Then roll the stamp on the fabric, re-inking after every row. How did I line the rows up so well? Gershwin gave me a great tip. Use a guide that you can run the roller against, so it's always straight. I used my Sizzix Essentials Platform, but books or shoe boxes would also work.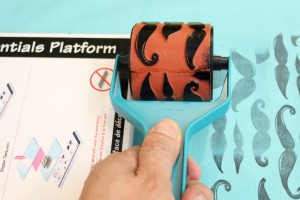 Step 2: Mark off the pattern for the bandana. I notice on Project Runway that they use tape on their mannequins to create patterns, so as Tim Gunn would say, I made it work. I basically taped off a six-sided shape with two parallel sides and triangles on either side. You can use the pattern with the dimensions I've shown here. It was kind of big for Gershwin, but my parents used to buy me big clothes that I could grow into to save money.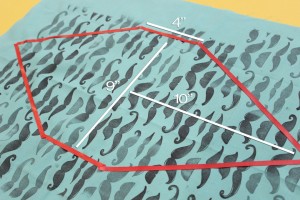 Step 3: Cut along the tape guide and fold over to make sure it's even on both sides.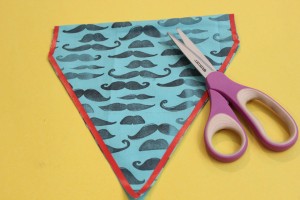 Step 4: I did not want to sew this piece because my sewing machine only has black thread right now, and the thought of changing the bobbin made me break out into a cold sweat. Instead, I used Thermoweb Heat n Bond fusible web tape to hem all the sides. I also added one final strip of Heat n Bond in the place indicated in the photo so that when both sides are folded together, there's a pocket that the dog collar could slide through.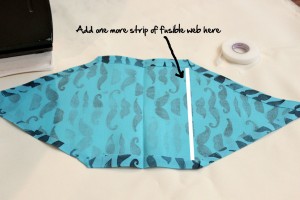 With the dog collar slipped through the opening, it kind of looks like a thong here, but that's another project for another website. Like Jonathan Thong Style. (Better buy that domain name.)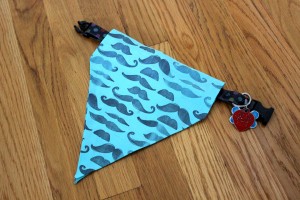 Gershwin loves his bandana. He has so much facial hair, it's the only way he can wear a mustache.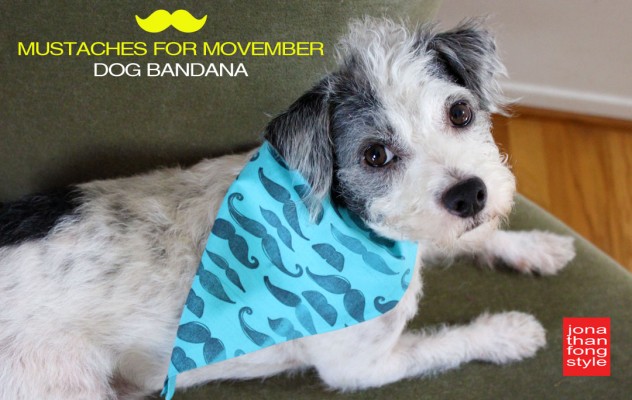 Enter to win a prize package!
And check out these other Movember projects using the mustache design wheel stamp.